Nectar Lush Mattress
Advertising Disclosure: We receive referral fees from the brands listed below.
Full Disclosure
MattressVerdict.com is a mattress reviews website. Our website compares leading brands, provides detailed reviews about the mattresses construction, warranty, return policy and more. We do not list all mattress brands out there, nor do we cover all aspects of brands we list. We do our best to keep the information accurate, but we can't promise you that it is. Mattress companies often change their product as well as their prices, warranty periods and more.The best way to get accurate information is to go to their respective official websites. We receive referral fees from the brands on the website. We do our best to provide accurate information. Fees impact rankings, rating and reviews.
Superior pressure support
Dual action cooling
Durable materials
Shop mattress
Summary
Nectar Lush is a 3-layer all-foam mattress with a 12-inch profile and a Tencel fiber cover.
This is a bed-in-a-box style mattress and comes in a large box.
The Nectar Lush is a medium to medium-firm mattress. It corresponds to a 5.5 out of 10 on the firmness scale.
This mattress will work with different types of bed frames.
Platform, adjustable bases, traditional frames, box spring, and divan bases.
The Nectar Lush is Certipur-US certified for emissions, content, and durability.
When you purchase this mattress, you get a 365-day risk-free trial period and Forever warranty. The mattress will be shipped free of charge, and you also get free returns
As far as price goes, the Lush is on the pricier side for an all-foam mattress, it's a great option for those who prefer a luxury all foam mattress.
Comparison of brands
Nectar Lush Mattress

Visit site
VS

Visit site
Our Review
By MattressVerdict Team
Mattress Construction
Mattress height and size- the Nectar Lush has a height of 12 inches. This is a sweet spot for people who want a mattress that is neither too thin nor too thick to make climbing on/off the bed a hassle.

Cover- this mattress has a thin cover made from a blend of spandex, polyester, nylon, and Tencel. One thing that's commonly highlighted in most Nectar Lush mattress reviews is how cool this cover feels. This is because it's engineered to wick away sweat and prevent heat buildup. This means a lot for a memory foam mattress and more so if you tend to sleep hot at night. The cover is soft and super stretchy too, so we expect it to hold up nicely for a long time. Lastly, we appreciate that this cover has a zip that allows you to remove it for washing or replacements. However, Nectar recommends spot-cleaning only using a mild detergent in case of stains.
Comfort layer- the first layer of this mattress is one of its key selling components and where most of the magic happens. This section is made up of a 3-inch layer of 3.5 PCF memory foam infused with gel. The low-density design of this layer gives the Nectar Lush that classic feel of traditional memory foam. This layer has deep body-conforming, which is vital for superior pressure relief. Important to mention here is that the low-density construction of this layer also makes it reasonably breathable. This breathability, coupled with the gel-infusion technology and thin cover at the top, helps a lot in regulating temperature.
Transition layer- beneath the comfort layer is a 2-inch block of 2.5 PCF Energex memory foam. Worth pointing out, Energex memory foam is a relatively new type of Certipur-certified foam that's engineered to combine the best properties of memory foam and latex technologies. This means that you benefit from traditional visco foam's pressure-mapping characteristics but with the quick responsiveness and bounce of latex. With a slightly denser construction than the comfort layer, the transition block prevents you from sinking too deep into the mattress. In addition, it offers a buffer protecting you from the firm support foam below.
Support base- the core of this mattress is a 7-inch high-density poly foam block. This foam supports the comfort and transition layers above to create an even plane. It also minimizes sagging and increases edge support, albeit to a fair degree.
Overall, we're impressed by Nectar's approach to the design and construction of the Nectar Lush. We think it will be a perfect pick if you love memory foam because of its classic body-hugging feel but would prefer a temperature-neutral bed.
Shop mattress
TOP 5 Mattresses
Editor's Choice

Biggest Offer Ever

Premium Materials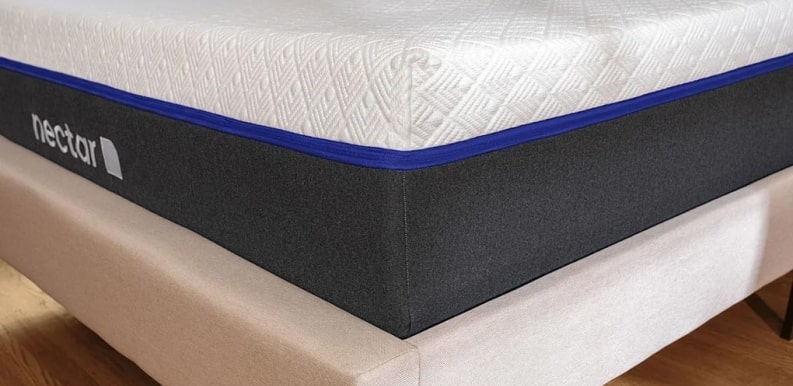 TOP 5 Mattresses
Editor's Choice

Biggest Offer Ever

Premium Materials
The Nectar Lush Mattress
Sleeping Positions
Having gone through this mattress's construction details, let's discuss who this model might be best for. We like pointing out that whether a mattress will work for you depends on your weight and sleeping position.

Side sleepers - the most critical factor to consider when purchasing a mattress for side sleeping is its pressure relief ability. Pressure relief in a mattress is assured if the mattress has a good balance of body-conforming and support. To a larger extent, we're convinced that the Nectar Lush was engineered purposely for side sleepers. The comfort layer of this mattress contours deeply to cradle your hips and shoulders and prevent pressure points around these joints. On the other hand, the dense transition layer kicks in just in time to provide enough firmness to prevent you from sinking too deep into the mattress. This helps in aligning the spine to the shoulders and pelvis, thereby reducing tension.

Back sleepers - the Nectar mattress is very popular with people who curl mainly on their back too. Back sleepers typically require a bed with enough support to align the spine and a good amount of cushion to keep their shoulders, pelvis, and hips comfortable. With its medium-firm feel, the Nectar mattress conforms to your body shape to embrace every curve without feeling stiff. Its excellent conformity again keeps your spine aligned, evoking a deep sleep.

Stomach sleepers - this is the most delicate sleeping position as it tends to flatten your spine's natural curve. This puts a load of pressure on your shoulder and hip joints and spinal muscles. The Nectar Lush may work for you if you fall into the lightweight (under 130 lbs) or average weight (130-230 lbs) categories. If you weigh over 230 pounds and sleep predominantly on your stomach, this mattress may not provide enough support and may end up throwing your spine out of alignment. Heavier individuals may want a bed with a little more pushback.

In a word, the Nectar Lush is a highly recommendable mattress for side and back sleepers. It should also impress combination sleepers who sleep mainly on their side or back and tend to switch to stomach sleeping position.
Firmness Review
The Nectar Lush is engineered to offer the traditional visco foam feel. In line with this, the cover is made thin and soft to ensure that you experience the authentic feeling of the memory foam layer that makes the comfort section.

The Nectar Lush is a medium-firm mattress and falls at around 5.5 on the 1-10 firmness scale. The low-density memory foam layer at the top is soft to the touch and will let you sink in the mattress to create a body-hugging feel. This excellent conformity makes this mattress a nice option for memory foam lovers who prefer sleeping IN the mattress instead of ON the mattress.

You won't sink too far into the foams, though. The transition layer, which feels like a blend of memory foam and latex, has a decent firmness to prevent you from bottoming out, especially when sleeping on your side and back. This layer also gives the Nectar Lush a notable degree of responsiveness and bounce so that you won't feel stuck in bed.

So, as far as firmness goes, we think the Nectar Lush will suit you if you need the body-hugging feel that comes with traditional memory foam mattresses. Again, Nectar has done a commendable job reducing the stuck-in-mud feeling that's common with visco foam. That being said, if this is what holds you back from trying out memory foam beds, Nectar has taken care of it quite well here.
Value for the Money
All in all, we think that you're getting a really good memory foam mattress with the Lush if you're willing to invest a little more. The mattress is more expensive than other all foam mattresses, but it is often on sale. We suggest buying when it's on sale or with a coupon.

Besides its excellent body-contouring and pressure relief capabilities, this mattress is among the best in isolating motion. This assessment will make a lot of sense for couples and individuals who share the bed with another person or pet. Lastly, the Nectar Lush does really well in regulating temperature. While it's not necessarily the best mattress in this regard, its breathable cover and gel memory foam around the center make it an incredible contender for people who sleep hot.
Overall
The Nectar Lush is slightly pricier than most memory foam mattresses in its category. However, if you have no problem investing a little more, this mattress will make a great purchase if you love the traditional feel of visco foam. It makes an even better contender if you want a mattress that doesn't sleep overly hot and it's easier to move on.
Pros & Cons
Excellent pressure relief
Performs well in regulating temperature
Removable cover makes cleaning stains and replacing it easy
Performs excellently in isolating motion
Not cheap (it's regularly discounted, though)
Not the best for heavyweight strict stomach sleepers
TOP 5 Mattresses
Editor's Choice

Biggest Offer Ever

Premium Materials