Saatva Mattress
Advertising Disclosure: We receive referral fees from the brands listed below.
Full Disclosure
MattressVerdict.com is a mattress & sleeping products reviews website. Our website compares leading brands, provides detailed reviews about the product construction, warranty, return policy and more. We do not list all mattress brands out there, nor do we cover all aspects of brands we list. We do our best to keep the information accurate, but we can't promise you that it is. Companies often change their product as well as their prices, warranty periods and more.The best way to get accurate information is to go to their respective official websites. We receive referral fees from the brands on the website. We do our best to provide accurate information. Fees impact rankings, rating and reviews.
For more information on how we rate Click Here
365-night home trial
Lifetime warranty
Free white glove delivery, set up & removal
Shop mattress
Black Friday! Save $225 - $525
Premium Materials
Summary
The Saatva is a 4-layer hybrid mattress featuring a dual spring system and a Luxury Euro pillow top.
This mattress comes in 2 heights 11.5" and 14.5". Both are sold at the same price.
You have a choice of 3 firmness levels with the Saatva mattress.
Plush soft (feels like a 5/10 on the firmness scale), Luxury firm (this medium-firm option is the most popular and feels like a 7/10), and Firm (8/10).
This mattress is compatible with various bases. Foundation, platform beds, box springs, and adjustable bases.
Saatva offers you a 365-night home trial, a lifetime warranty coverage, and free premium white glove delivery and setup services. They'll also take away your old mattress for free.
Saatva is not a bed-in-a-box mattress. It will be delivered ready to use.
Looking at the materials and construction quality, we expect this mattress to last 7-10 years.
Most hybrid mattress lovers consider the Saatva mattress because it's a high-quality luxury brand at a value price.
Comparison of brands
Saatva Mattress

Visit site
VS

Visit site
Our Review
By MattressVerdict Team
Mattress Construction
The Saatva Classic is a hybrid mattress. This means that it combines a couple of technologies to give you the best of each.

Mattress height - this mattress is available in 2 thickness levels. The low-profile bed measures 11.5" while the other model maxes at 14.5". This difference in height is a result of the shorter base coils used for the 11.5" bed. There's no difference in price between these heights, though, so it boils down to personal preference. Important to mention, you won't experience any difference in feel between these 2 heights. That's to say that this will be more of an aesthetic decision.

Cover - the Saatva mattress Classic mattress has an organic cotton cover. Besides being soft and breathable, this material is a big boon for individuals who want a less toxic bed.

Euro pillow top - right beneath the organic cotton cover, this mattress has a 3" contouring 3" Euro Pillow Top. This layer is stitched underneath the cover, and it's flush with the edges to give the Saatva a clean and premium look. This Euro pillow top is tufted with fluffy foam, making it customizable for different body shapes and sleeping positions. Importantly, since this Euro top is a part of the mattress, it's durable and won't be shifting beneath you as a traditional pillow top does.

Comfort layer - the Euro pillow top on this mattress is essentially its comfort section. However, Saatva has also included a block of CertiPur-US certified high-density memory foam that primarily boosts lower back support and pressure relief in the middle of the mattress. 

This memory foam layer also keeps you off the individually pocketed coil system beneath. Another critical role of this layer is to absorb and deaden most of the bounce and noise coming from the spring systems below.

Transition layer - the transition zone of the queen size mattress comprises 884 individually encased, 14.5 gauge coils. It's a big thing for Saatva to include this technology as the pocketed coils respond individually to give you appropriate support where you need it most. Another key advantage of this layer is that it doesn't have the roll-together and roll-off effect common with traditional innerspring mattresses. This will be a bonus if you'll be sharing the bed with another person.

Beneath the layer of encased coils, there is Saatva's patented Lumbar Zone Active Spinal Wire. Active Wire is a clinically proven technology that helps promote spinal alignment. 

Base layer - the support layer is made up of thick tempered-steel coils capable of withstanding heavyweight individuals. A key highlight of these coils is their uniform top-down diameter, which promises better durability than the traditional hourglass-shaped Bonnell springs.

In general, Saatva has gone above and beyond in designing a mattress that will meet most people's comfort and support needs without costing the earth. Given the Euro top pillow with organic cotton cover and dual spring system, we think this mattress offers excellent value for your money. We often see this level of quality in hybrid mattresses that are 1.5x pricier and even higher. So, if you want a relatively affordable mattress with hotel luxury, this one might make a great choice.
Shop mattress
Black Friday! Save $225 - $525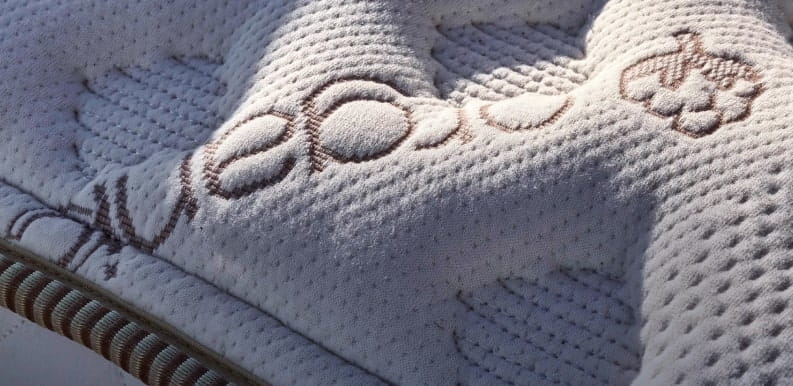 The Saatva Mattress
Sleeping Positions
There's nothing like the best mattress for everyone, given our different body shapes and sleeping positions. That's why it's a great thing for Saatva to offer this mattress in 3 firmness levels; plush soft, luxury firm, and Firm. This is a relief for most individuals as it eliminates the hassle that comes with determining the best mattress for a particular weight range and sleeping style.

Side sleepers - most side sleepers across all weight categories gravitate towards the Plush Soft and Luxury Firm Saatva mattresses. If you're looking for a mattress with a bit more pressure relief, we suggest that you consider the Plush Soft model. This mattress will cradle your pressure points and adapt to your body shape for excellent spinal support. Thanks to the Euro top design, both of these mattresses will allow you to sleep on the bed compared to being buried in the layers of foam. However, the Luxury Firm mattress performs much better in this regard. This could explain why it's the most popular of the 3 mattresses.

Back sleepers - individuals who sleep mainly on their backs want a mattress that will promote the spine's natural curve while minimizing pressure points. If you belong in this category, we recommend going with either the Luxury Firm or Firm mattress. These mattresses will allow your heavy parts to sink slightly through the Euro top pillow. However, the dual spring system offers a little more resistance to ensure a good level of support to your lower back, hips, and trunk. These 2 mattresses will also come in handy for combination sleepers who rotate between side, back, and stomach sleeping positions.

Stomach sleepers - If you sleep strictly on your stomach, we suggest considering the firm Saatva mattress. This mattress's firm feel offers tons of balanced support to your abdomen and hips to prevent them from sinking too far into the mattress. This is critical in taking pressure off your lower back.

Altogether, we believe Saatva has done a tremendous job in engineering a mattress that most people are going to love. Whether you want a low-profile or high-profile mattress and regardless of your firmness level preference, the Saatva mattress has got you covered.
Firmness Review
The Saatva mattress comes in 3 firmness levels. The Plush Soft mattress is the fluffiest of the 3 and falls at 5 on the firmness scale. This mattress has a deep cushiony feel thanks to the extra padding in the Euro pillow top and softer comfort layer. It might interest you if you prefer a bed with a little bit more body-hugging.

In the middle is the Luxury Firm mattress, which scores a 7/10 on the firmness scale. This mattress is focused on offering a sweet spot between comfort and support. You may want to consider it if you're undecided on the best firmness level but prefer a comfortable mattress with excellent pressure relief abilities.

On the higher end of the firmness spectrum is the Saatva Classic firm mattress. This mattress scores 8 on the firmness scale, and it's dedicated to individuals who are particularly interested in firm beds. It has firmer foams that offer a balanced resistance to keep you afloat the mattress instead of sinking in the layers.
 
Value for the Money
Admittedly, the Saatva mattress is slightly on the higher end of the price spectrum. However, if you compare it to other luxury hybrid beds in its category, you'll realize that the Saatva is significantly affordable. In addition, we believe that this mattress is a great value for the money given its construction design and overall performance.

One of its unique selling points is its dual thickness options and triple firmness levels that are sold at the same price. This means that you can narrow down to exactly what you want without overstretching your budget. With the 4 technologies that go into designing this mattress, Saatva has really knocked it out of the park in creating a mattress that ticks most, if not all, of the necessary boxes. Besides offering tons of comfort and support, the Saatva does really well in areas such as temperature regulation and edge support. Although it has a notable deal of motion transfer, it might not be an issue unless you are a super-sensitive sleeper. Lastly, this manufacturer gives you a much better deal by offering free white glove delivery services. This includes taking away your old mattress free of charge too.
Overall
The Saatva mattress is one of the best hybrid mattresses in its price range. It's not hard to see why most people speak so highly of it. We are great fans of its two height options and three optional firmness levels. What we find so impressive, however, is that Saatva won't charge you extra despite your profile and firmness preference. The 3 firmness levels mean that there's a mattress to meet everyone's needs. On this note, the fact that this mattress has a very low return rate is enough evidence that it meets (and perhaps supersedes) most people's expectations.
Pros & Cons
Durable mattress
Available in multiple firmness and height options
Euro pillow top design prevents being sucked in the mattress
Offers a balanced mix of comfort, support, and bounce
Has excellent edge support
It's heavy
More expensive than most online brands