DreamCloud
Advertising Disclosure: We receive referral fees from the brands listed below.
Full Disclosure
MattressVerdict.com is a mattress & sleeping products reviews website. Our website compares leading brands, provides detailed reviews about the product construction, warranty, return policy and more. We do not list all mattress brands out there, nor do we cover all aspects of brands we list. We do our best to keep the information accurate, but we can't promise you that it is. Companies often change their product as well as their prices, warranty periods and more.The best way to get accurate information is to go to their respective official websites. We receive referral fees from the brands on the website. We do our best to provide accurate information. Fees impact rankings, rating and reviews.
For more information on how we rate Click Here
Luxury Hybrid Mattress
365-Night Sleep trial
Lifetime Warranty
Financing available - As low as 0% APR
Shop mattress
Black Friday! 25% OFF Everything + $599 of Gifts
Editor's Choice
Summary
The Dreamcloud is a 14" five-layer hybrid mattress that combines individually encased springs, gel memory foam, and a cashmere cover.
This is a bed-in-a-box style mattress that's shipped right at your doorstep.
The Dreamcloud has a medium-firm feel and falls at 6.5 on a 1-10 firmness scale.
When you purchase this mattress, you get free shipping and returns, a 365-day trial period, and a lifetime warranty. Better than the vast majority of competing mattress brands
The Dreamcloud mattress works well with all types of bed frames: box spring, divan bases, adjustable bases, traditional frames, and foundation.
Most people go for this mattress because it's an excellent value for money proposition compared to luxurious beds. If you're ready to invest a bit more, this is a mattress to consider.
Comparison of brands
DreamCloud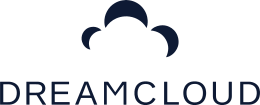 Visit site
VS

Visit site
Our Review
By MattressVerdict Team
Mattress Construction
Height and size - the Dreamcloud is a 14-inch mattress that comes in all standard sizes

Twin, Twin xl, Full, Queen, King, and California king. This mattress is designed to offer a relatively affordable option to individuals who'd want a luxury bed without coughing out several grand. Besides, this high profile design makes climbing on and off the bed a little bit less demanding for some people.
That said, the Dreamcloud should be your top choice if you want a mattress that will add prestige to your bedroom. You may also want to consider it if you have trouble getting up from a low-profile bed due to an existing back or joint problem.
Cover- this mattress's cover is one thing that gives it its premium look and feel. This cover is crafted from a blend of cashmere fiber and polyester. Derived from Kashmir goats, Cashmere is a premium yarn that beats other wool fabrics with its super soft, silky texture. Besides being a pleasure to the skin, this blended cover also has excellent breathability, eliminating issues of overheating at night.
Quilted Euro pillow top- this mattress's 1.5-inch plush Euro pillow top is another of its key selling features. This top is quilted with memory foam to give you the initial luxurious and comfortable feel when you jump into the bed. Notably, we appreciate that this pillow top is hand-tufted to secure the foam fillings and retain the prestige look for years.
Comfort layer- the quilted Euro pillow top of this mattress is technically the comfort layer. However, Dreamcloud goes above and beyond to include another layer of high-density gel memory foam to extend the luxurious feeling and gently cradle your shoulders and hips. Impressively, the quilted Euro pillow top above eliminates the feeling of being swallowed by the mattress. Again,this memory foam comfort layer has gel infusion, which aims at minimizing heat buildup.
Transition layer- beneath the comfort section is a layer of poly foam. This foam has a slightly higher response than the gel memory foam above it, and it creates a sort of a buffer between the soft comfort section and the coil support system below. This transition layer also absorbs most of the movement energy that would otherwise be transferred to the coil system beneath.
Support layer- a critical component of the Dreamcloud mattress, this section is made up of hundreds of 8-inch, individually-wrapped springs. Unlike innerspring beds that feature hourglass-shaped coils interconnected into one rig, the Dreamcloud has standalone springs that work independently to offer localized support. Also, the gaps between these coils help a lot in boosting airflow, and this promotes a cooler sleeping surface.
Base- the bottommost layer of this mattress is a dense polyfoam block. You may not feel this layer since it's meant to offer a platform for the coil system to bounce.
We like the thoughtfulness that goes into designing and constructing the Dreamcloud mattress. From the plush cashmere cover with the Euro pillow top to the individually encased coils in the support section, we feel that this mattress will interest you if you want a well-built but inexpensive luxury bed.
Shop mattress
Black Friday! 25% OFF Everything + $599 of Gifts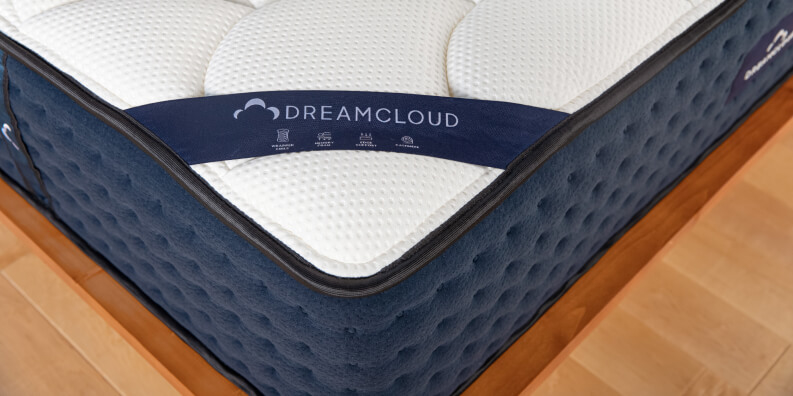 The DreamCloud Mattress
Sleeping Positions
Whether or not a mattress will work for you boils down to your body shape, weight, and sleeping position. Overall, we think the Dreamcloud mattress will be a suitable bed for all individuals (petite, average-weight, and even heavy folks) despite their sleeping positions.

Stomach Sleepers – given that this mattress is slightly on the firmer side, we expect it to accommodate front sleepers very well. The Dreamcloud prevents lower back arching by offering a good amount of support to prevent the pelvis and hips from sinking uncomfortably into the comfort layers. This promotes a neutral spine, consequently improving circulation and oxygen flow.

Back Sleepers – individuals who sleep on their back across all weight ranges should get a good balance of comfort and support on their hips and shoulders. The quilted Euro pillow offers an even sleeping surface while the springs respond individually for localized support.

Side Sleepers – we are positive that this mattress will work for petite and average-weight side sleepers. It will also work for heavy individuals who mainly sleep on their back or stomach but also switch to side sleeping. However, if you weigh close to 300 lbs and you sleep predominantly on your side, there's a chance you'll feel pressure buildup around your shoulders and hips. This won't be an issue if you are a combination sleeper, though.

As it turns out, the Dreamcloud makes an incredible bed for individuals across all weights and sleeping positions. That said, this may be your go-to mattress if you have problems choosing a mattress.
Firmness Review
Dreamcloud states that this is a medium-firm bed, and we agree with them. When you first hop onto this mattress, you'll be greeted by a plush feel from the quilted Euro pillow top followed by a comfortable firmness feel from the transition layer and coil system beneath. To paint a clearer picture for you, the Dreamcloud mattress scores a 6.5 on a 1-10 soft-firm scale. This is the range that most people tend to experience a near-perfect mix of support and pressure relief.

Although the Dreamcloud has several layers of foam at the top, it's almost impossible to notice that you're sleeping on gel-infused memory foam. That's because the quilted Euro pillow top holds you afloat, thereby preventing the characteristic 'sinking-in-bed' feeling of traditional memory foam mattresses.

Sure, the Dreamcloud has a noticeable cradle to it. However, since there's less material 'hugging' you, you won't feel like your bed is swallowing you. Again, the fact that you'll be sleeping on the mattress means that moving across the bed and changing positions will be much easier.

To sum up this section, the Dreamcloud will make an excellent choice if you prefer a mattress that creates a plush feel without that stuck-in-the-mud feeling common with traditional memory foam beds.
Value for the Money
From its construction design to its performance, we think that the Dreamcloud mattress represents an incredible value for your dollar. This bed is engineered for value-seekers who want a high-quality luxury bed without breaking the bank. Another thing that we'd like to mention here is that this mattress performs well in preventing overheating at night. Its versatility also makes it a great bed for couples, especially considering its excellent bounce and above-average motion isolation capabilities. And if you're worried that the mattress may not work for you, remember that Dreamcloud backs it up with a full year trial period and a lifetime warranty.
Overall
The Dreamcloud is a highly recommendable option if you can't seem to decide on the best mattress. Besides being able to accommodate pretty much all sleeping positions, its construction design also makes it a great bed for people with different body shapes.

That said, this mattress should fit the bill if you're looking for a luxury mattress at a value price.
Pros & Cons
It accommodates different sleeping positions
Sleeps cool
Does not make squeaking noise
It's easy to move on
Won't suck you in
Not great if you prefer a mattress that 'hugs' you
Its high profile might be an issue for short people