Layla Mattress
Advertising Disclosure: We receive referral fees from the brands listed below.
Full Disclosure
MattressVerdict.com is a mattress & sleeping products reviews website. Our website compares leading brands, provides detailed reviews about the product construction, warranty, return policy and more. We do not list all mattress brands out there, nor do we cover all aspects of brands we list. We do our best to keep the information accurate, but we can't promise you that it is. Companies often change their product as well as their prices, warranty periods and more.The best way to get accurate information is to go to their respective official websites. We receive referral fees from the brands on the website. We do our best to provide accurate information. Fees impact rankings, rating and reviews.
For more information on how we rate Click Here
Copper infused memory foam
Sleeps cool
Soft plush feel
Shop mattress
Black Friday! Up to $200 OFF + Pillows
Summary
The Layla Memory Foam Mattress is known for its fantastic motion transfer on both sides, which makes it a worthy investment for couples and co-sleepers.
With premium materials and dense support core, this Layla mattress should last for a good seven to eight years.
Being an all-foam mattress, this one does a fair job but doesn't excel in terms of providing edge support. On the soft side, it does sink more than what's expected when you sit near the perimeter. That said, the firm side doesn't sink much but doesn't feel too secure either. So, if you are looking for incredible edge support from your mattress, look elsewhere.
The Layla Memory Foam Mattress is virtually silent, just like most of the all-foam mattresses out there.
Layla gives an entirely non-prorated lifetime warranty for this mattress.
The company provides a 120-night sleep trial with a two-week break-in period.
Comparison of brands
Layla Mattress

Visit site
VS

Visit site
Our Review
By MattressVerdict Team
Mattress Construction
The Layla Memory Foam Mattress has a 10" thickness. Here's a quick look into the layers of this signature product from the brand.

Cover – The Layla Mattress comes with polyester-blend covering on both sides. The removable cover has a stitched hexagon design and features a ThermoGEL cooling agent for a night of sweat-free sleep.
Comfort Layers – The soft side of the mattress has a 3-inch comfort layer of copper-gel memory foam. While copper ensures antimicrobial odor control, overall, this layer helps in delivering rapid cooling and flexible support for deep compression areas. The medium side comes with a 1-inch comfort layer for that firmer and much more supportive feel.
Transitional Layer – The soft side also comes with a 2-inch layer of Max Airflow Support Foam. Besides offering exceptional cooling, this layer also boasts of Surface Modification Technology and Zoned SMT for greater support.
Support Layer – With a 4-inch Support Core Foam, this layer ensures high durability with excellent motion transfer control and a little bounce.
Shop mattress
Black Friday! Up to $200 OFF + Pillows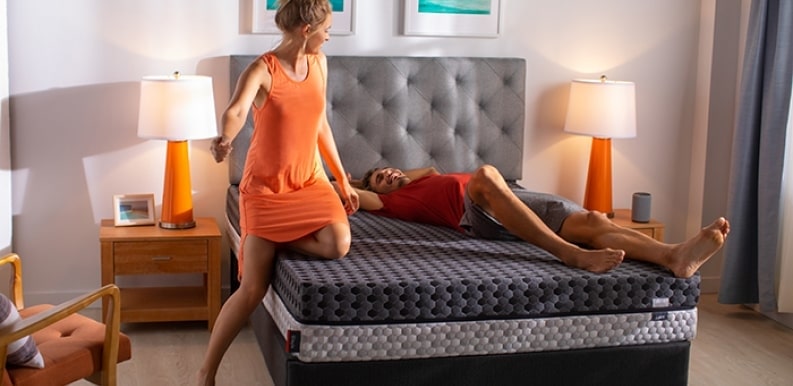 The Layla Mattress
Sleeping Positions
If you are looking for a versatile mattress that can suit a variety of sleep positions, the Layla mattress is a great buy. Here's how its unique construction benefits different sleeping positions:
Stomach Sleepers – Those who prefer to sleep on their stomach will find the "firm" side of the Layla mattress good enough to support their hips and keep the spine aligned. However, lighter stomach sleepers may prefer the "soft" side for its support with comfort.
Back Sleepers – Back sleepers who seek more comfort from a firmer bed will find the "firm" side of the Layla mattress comforting. And those who like a softer bed will feel comfortable on its "soft" side, which will support the lower back well while aligning the spine properly.
Side Sleepers – The Layla's "soft" side offers excellent pressure relief and cradling to the shoulders, which makes it a perfect fit for side sleepers
Firmness Review
The soft side of this mattress provides a medium-soft feel, and the firm side offers just that: a much firmer feel than the former.
Value for the Money
With copper infused memory foam, the Layla mattress provides right support and comfort you need for a good night's sleep. A high-value purchase, for sure, it's a good pick for most of the sleepers looking for an all-foam mattress.
Overall
The Layla Memory Foam Mattress has been around for a while now. But the enthusiasm for its flippable firmness is still there. With one side that provides a softer feel and the other side that offers a firmer feel, it gives the best of both worlds to its users.
Pros & Cons
Sleeps cool
Fits most sleeping positions
Different firmness in one mattress
Doesn't have a bouncy feel
Isn't suitable for heavy people