MOLECULE Mattress
Advertising Disclosure: We receive referral fees from the brands listed below.
Full Disclosure
MattressVerdict.com is a mattress & sleeping products reviews website. Our website compares leading brands, provides detailed reviews about the product construction, warranty, return policy and more. We do not list all mattress brands out there, nor do we cover all aspects of brands we list. We do our best to keep the information accurate, but we can't promise you that it is. Companies often change their product as well as their prices, warranty periods and more.The best way to get accurate information is to go to their respective official websites. We receive referral fees from the brands on the website. We do our best to provide accurate information. Fees impact rankings, rating and reviews.
For more information on how we rate Click Here
Ideal for warm sleepers
Balanced body support
Tested & Trusted by Elite Performers
Shop mattress
Black Friday! Up to 40% OFF
Summary
Molecule 1 is an all-foam three-layer mattress with a Microban cover.
Its memory foam and polyfoam layers are made in the USA and total ∼ 12" in height.
Molecule 1 comes in only one firmness level- medium-firm. On a scale of 1-10, our mattress review team places it between 6 and 6.5.
Engineered with hot sleepers in mind, all the components in this mattress have temperature regulation and moisture-wicking technologies to keep you cool.
The Molecule 1 mattress is designed by sleep scientists and athletes for active people. It is crafted to balance support and pressure relief to promote recovery-based sleep.
Like other bed in a box brands, the Molecule mattress has a 100-night sleep trial, free shipping and free returns.
Molecule mattress has a non-prorated lifetime warranty to cover your purchase from material and workmanship defects.
Comparison of brands
MOLECULE Mattress

Visit site
VS

Visit site
Our Review
By MattressVerdict Team
The Molecule Mattress
It's worth noting that this bed has been endorsed by all-star athletes, including one of Team USA's leading soccer players, Alex Morgan, Tom Brandy, Michael Phelps, and Seattle Seahawks quarterback- Russell Wilson. Apparently, the Molecule mattress's popularity with athletes is due to its recovery-focused engineering. 

This Molecule mattress review examines these claims by looking at its construction, overall performance in comfort, support, breathability, and pros and cons. 

Height and Size - the Molecule 1 mattress is around 12.25 inches tall. This height puts it in the middle of a standard and luxurious mattress. As evidenced in most Molecule mattress reviews, that's a good start for a mattress that may work for most individuals and couples and suit various sleeping positions. The Molecule 1 is currently available in six mattress sizes from twin through cal king. 

Cover - the Molecule mattress cover is made from a blend of 98% polyester and 2% lycra. This fabric is commonly used in activewear because it's soft to the touch and durable. And thanks to its lycra, this cover is stretchy and regains its original shape every time. The Molecule mattress cover also has Microban treatment. Microban is an odorless, lifelong antimicrobial technology that inhibits the growth of bacteria, dust mites, mold, mildew and odor. 

Comfort layer - the comfort layer consists of 2 inches of Restoreflo foam. Essentially, Restoflo is soft memory foam infused with gel microbeads to help regulate your body temperature as you sleep. This foam also has open-cell construction to avoid trapping heat the way traditional memory foam does. 

Transition layer - next comes a 3-inch layer of poly foam that Molecule dubs Recoveryflo. At the surface, this is a firmer and more responsive layer that deepens the contouring while preventing the body from excessive sinkage. But a closer look reveals a thoughtfully engineered transition layer with zoned regions to provide targeted support and pressure relief to the sleeper. This layer is soft around the head and feet for adequate pressure relief but firmer around the lumbar region to provide the necessary support. 

Foundation layer - finally, there's a 7" layer of Contourflo that forms the support core of the mattress. Like most all-foam bed-in-a-box mattresses, this layer consists of high-density poly foam. Its role is to provide support to the other layers and keep your spine aligned. Its high-density construction also boosts durability and edge support.
Shop mattress
Black Friday! Up to 40% OFF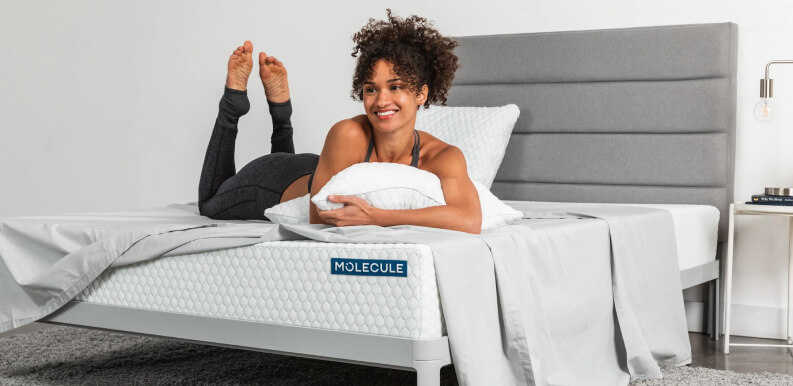 The Molecule Mattress
Sleeping Positions
Side sleeping - the Molecule 1 does a decent job at supporting side sleepers (even heavier ones) and keeping their spines aligned. We attribute this performance to its softer-than-average comfort layer and three-zone transition layer. With its open-cell construction, the open-cell memory foam layer does provide adequate pressure relief while allowing heat to dissipate. 
Back sleeping - the Molecule 1 mattress will favor most average-weight back sleepers, too, thanks to its medium-firm feel. These sleepers will appreciate the extra support around the midsection as it would prevent them from dropping too deep to cause over-flexion of the spine. They will also appreciate the ample cushioning that the memory foam comfort layer affords to their shoulders, hips and lower back. 
Stomach sleepers - with its medium-firm build and high-density base layer, the Molecule 1 joins our list of mattresses that we'd gladly recommend to average-weight stomach sleepers. Stomach sleepers prefer a mattress that provides adequate support around the midsection. This is important for preventing excessive sinkage that would lead to undue stress on the spine, increasing the potential for backaches and neck pains. That's why the targeted support of the Molecule mattress is good news for most stomach sleepers. Most importantly, stomach sleepers weighing more than 230 lbs may prefer a mattress with more support. 
Firmness Review
In our opinion, the Molecule 1 falls between medium and medium-firm in terms of firmness. When you first climb on the bed, the mattress will feel softer than average before the firmer transition layer and support core kick in. On the 1-10 firmness scale, our reviewers agree that this mattress will fall between 6 and 6.5 for most average-weight users. Note that firmness is a subjective mattress factor. The Molecule 1 may be softer or firmer depending on your weight. 
Value for the Money
While this mattress is designed by a team of sleep experts and athletes, the real question is, "is the Molecule 1 worth the money?" 
There are plenty of factors to consider when determining whether a mattress is worth it- from its build quality to its comfort and support level. For an all-foam mattress, you want to factor in temperature regulation, edge support and motion isolation. 
We think the Molecule 1 will be a great investment, particularly if you're interested in a memory foam mattress that doesn't get too hot. Of course, while we were impressed by it, the Molecule 1 may not be for everybody. But the good news is that you have 100 nights to try it before deciding whether it's for keeps.
Overall
As a recap of this Molecule 1 mattress review, this is a bed-in-a-box style mattress, meaning that it's compressed and shipped right to your door. Once you've unboxed it and placed it on the bed, the Molecule 1 should be usable within 24 hours, although it may take 48-72 hours to inflate fully and for the new mattress smell to subside.
Pros & Cons
Accommodates a variety of sleeping positions
Gel and open-cell lowers heat retention
Excellent pressure relief
Might be less suitable for heavy individuals