Helix Midnight Mattress
Advertising Disclosure: We receive referral fees from the brands listed below.
Full Disclosure
MattressVerdict.com is a mattress & sleeping products reviews website. Our website compares leading brands, provides detailed reviews about the product construction, warranty, return policy and more. We do not list all mattress brands out there, nor do we cover all aspects of brands we list. We do our best to keep the information accurate, but we can't promise you that it is. Companies often change their product as well as their prices, warranty periods and more.The best way to get accurate information is to go to their respective official websites. We receive referral fees from the brands on the website. We do our best to provide accurate information. Fees impact rankings, rating and reviews.
For more information on how we rate Click Here
Excellent motion isolation
A mattress for each sleeping position
Recommended by doctors
Shop mattress
Black Friday! $450 OFF + 2 Free Pillows
Summary
The Helix Midnight is a 12-inch 4-layer hybrid mattress.
Its construction consists of an 8-inch support system and 3 layers of foam.
This mattress has the Helix Soft Touch cover, which is removable. Hot sleepers have an option to swap the cover for the Helix Ultra-Cool Cover, which sleeps even cooler
The Helix Midnight has a medium firmness of between 4 and 6 on the firmness scale.
This mattress is engineered for maximum pressure relief, and it's ideal for all sleeper types (side, back, stomach, and combination sleepers).
Helix Midnight mattress is covered by a 10-year limited warranty and has a 100-night trial.
Comparison of brands
Helix Midnight Mattress

Visit site
VS

Visit site
Our Review
By MattressVerdict Team
Mattress Construction
As you're probably aware, the Helix Midnight is a memory foam hybrid bed consisting of 3 layers of foam and a coil-based support core. Combined, these layers give it a height of 12 inches. Let's have a close-up look at how Helix has designed this mattress, starting from the cover and moving from there.

Cover- all Helix mattresses ship with the Helix Soft Touch cover. True to its name, this cover is soft to the touch, good-looking and stretchy. Because things happen, Helix has designed this cover with a zip, so you can remove it for machine washing whenever necessary.
In terms of breathability, Helix says that this cover is optimized to improve airflow. We'd say it's neutral
while it doesn't get so hot, it does not sleep cool either. Good thing you can replace this cover with the Helix Ultra-Cool pad. The latter is engineered with hot sleepers in mind and has Phase Changing Material to boost its efficiency.
Comfort layer- the Midnight mattress starts with a 2-inch layer of memory foam sourced from Helix's bespoke memory foam plus material. This is a critical component for the functionality of this mattress. It creates a pressure-relieving tone with soft sinkage and whole body contouring, which is necessary to cradle pressure points from the neck to your lower back.
Transition layer- the second layer from the top is a slightly thinner slab of responsive, high-grade polyfoam. This is a multi-purpose foam that acts as the transition zone. It absorbs sinkage from the comfort layer while offering ergonomic support and extra cushioning from the coils below it.
Support layer- this layer is responsible for changing everything that you know about foam mattresses. It comprises hundreds of individually pocketed coils that give this mattress a ton of bounce and responsiveness, making switching positions easy. These coils also complement and boost the cradling effect of this mattress for maximum pressure relief.  Moreover, this design increases the overall breathability of this mattress and its edge support too.
Base layer- finally, we get to a solid base of high-density polyfoam that Helix refers to as DuraDense. This foam lends a foundation for the coil support system besides boosting the durability of the entire mattress.
To sum it up, the Helix Midnight is well designed, and there's almost nothing to err over. If you're switching from an innerspring or all-foam mattress, you'll find the Midnight a very different animal. This is due to its reduced motion transfer, breathability, and improved breathability.
Shop mattress
Black Friday! $450 OFF + 2 Free Pillows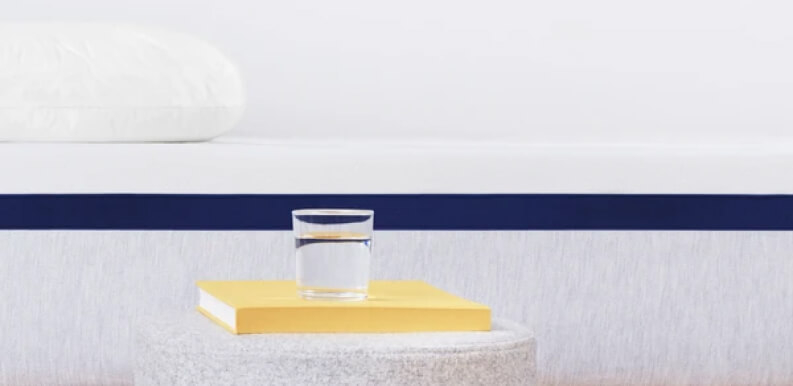 The Helix Midnight Mattress
Sleeping Positions
Side sleeping
On their main website, the mattress experts at Helix recommend the Midnight mainly to side sleepers. This tallies with our perception of it. As a mattress that smacks almost right in the middle of the firmness level, the foam in this mattress provides excellent sinkage and cradling to the shoulders and hips to deliver deep pressure relief.
Back sleeping
As a medium-firm mattress, most back sleepers weighing 300 lbs and below will also find this mattress a good match for their sleeping style. Your hips and shoulders will sink in just the right amount, and you'll experience a well-balanced feel of comfort and support. So, yeah, this is one of the best mattresses for back sleeping.
Stomach sleeping
Most front sleepers who weigh 250 lbs and below are likely to experience genuine support from this mattress too. However, if you weigh above this, the mattress may lack enough support to push your midsection back. This may misalign your spine, creating new pressure pain points or aggravating the existing ones.
Altogether, we expect the Midnight mattress to impress individuals across all sleeping positions. However, stomach sleepers weighing 250 lbs and above may want to consider a slightly firmer option
Firmness Review
Helix puts this mattress between 4 and 6 on the firmness scale (1 being cloud-soft and 10 being firmest). This is a wide range of firmness, and we expect it to accommodate both petite to medium-sized individuals. Thanks to how this mattress is constructed, we feel that it's deceptively cushy at first and has a hidden level of support that manifests a few seconds after lying on it. For those who love the feel of true memory foam, this mattress has it. But it's not overwhelming, so it will still impress most individuals who don't like that excessive feel of visco-elastic foam.
Value for the Money
The Midnight is one of Helix's most popular mattresses. Among other reasons, most people point out its incredible responsiveness, durability, and pressure-relief. Additionally, you're getting a hybrid mattress that's well-balanced in terms of comfort and support at a very competitive price point. These strengths, coupled with the option to replace the cover with a cooling pad, show Helix's determination to offer you great value for your money. They have successfully achieved this, in our opinion.
Overall
The Helix Midnight has been soaring in popularity since it debuted. It's certainly one of the best mattresses in the market- and for good reasons. If you want a reasonably priced hybrid mattress that's medium in firmness, comfortable, and supportive, the Midnight might be your guy. This mattress will make an excellent choice for petite and average-size individuals, including those who overheat while asleep. It's highly recommendable for couples, too, thanks to its motion isolation, average bounce, and low noise level.
Pros & Cons
Great motion isolation
Well-balanced comfort and support
Remarkable temperature control
Heavy mattress
Hand-made mattresses may cause Irregular stitching