Nectar Premier
Advertising Disclosure: We receive referral fees from the brands listed below.
Full Disclosure
MattressVerdict.com is a mattress & sleeping products reviews website. Our website compares leading brands, provides detailed reviews about the product construction, warranty, return policy and more. We do not list all mattress brands out there, nor do we cover all aspects of brands we list. We do our best to keep the information accurate, but we can't promise you that it is. Companies often change their product as well as their prices, warranty periods and more.The best way to get accurate information is to go to their respective official websites. We receive referral fees from the brands on the website. We do our best to provide accurate information. Fees impact rankings, rating and reviews.
For more information on how we rate Click Here
PCM-infused gel memory foam
Denser comfort layers
Quilted Cool Cover
Shop mattress
Labor Day! $200 OFF + $499 Of FREE Gifts
Summary
A 13-inch memory foam mattress with the classic visco-elastic feel.
Designed with dual-cooling action in favor of individuals seeking a mattress with a neutral sleeping surface.
Its 3-layer construction has a medium-firm feel corresponding to a 5.5-6.0 on the 10-point mattress firmness scale.
Features a reasonably thick gel-infused memory foam comfort layer for folks who love the hug-like feel.
A bed-in-a-box style mattress backed up with a 365-day trial and Nectar Sleep's Forever warranty.
Comparison of brands
Nectar Premier
Visit site
VS

Visit site
Our Review
By MattressVerdict Team
Mattress Construction
The Nectar Premier is a brand new all-foam mattress by Nectar Sleep. This is a 3-layer bed, and judging by its choice of materials and height, it seeks to offer the sleeper a pillowy feel and deep contouring. In total, its three layers give it a height profile of 13 inches, making it a fantastic trade-off between a high and low bed.

Let's start this Nectar Premier review with a close-up look at how it's made and how each layer affects your sleep!

Cover - starting right from the top, the Nectar Premier features a lightweight and noticeably smooth cover. This cover is woven from a blend of polyethylene and spandex and has a fantastic cool-to-the-touch sensation that should interest most hot sleepers.

One often overlooked benefit of polyethylene is that it's resistant to moisture, fungi, and crawlers. This attribute, coupled with the fact that the cover is removable, will be a great perk for hygiene freaks.

Comfort layer - peeling off the cover, we get to the main comfort layer and the real business end of the Nectar Premier- a 3" Nectar Smart Layer with ActiveCool HD. This comfort layer's surface has been infused with gel and a Phase Changing Material (PCM) to auto-adjust depending on your body temperature.

These two are among the trendiest mattress technologies that aim at combating the issue of heat retention that plague memory foam. We've seen each of these technologies used in other reputable mattress brands with greater success. Thus, we expect this mattress to create a neutral sleeping surface that should cater to those who tend to sleep slightly hot on memory foam.

Besides its temperature -management properties, we appreciate the 3-inch profile of this layer. With most of its competitors going for a 2-inch comfort zone, the extra inch gives it superior cradling and weight distribution abilities, which help with pressure relief.

Transition layer - underneath the gel-infused comfort zone, there is another 3-inch transition layer cut from Nectar's Dynamic Support foam. This layer is primarily responsible for adding some bounce and responsiveness to the bed, and has a comparably slower response, which will prevent you from sinking too far into the mattress.

Base layer - finally, we get to the support or the core of the mattress. This is a 7-inch slab of high-density polyfoam that serves a number of functions. The support core layer contributes the largest percentage of this mattress's support, which is necessary for ensuring excellent spinal alignment. Its other role is to reinforce the comfort layer in providing enough cradling for effective pressure relief on different parts of the body.
Shop mattress
Labor Day! $200 OFF + $499 Of FREE Gifts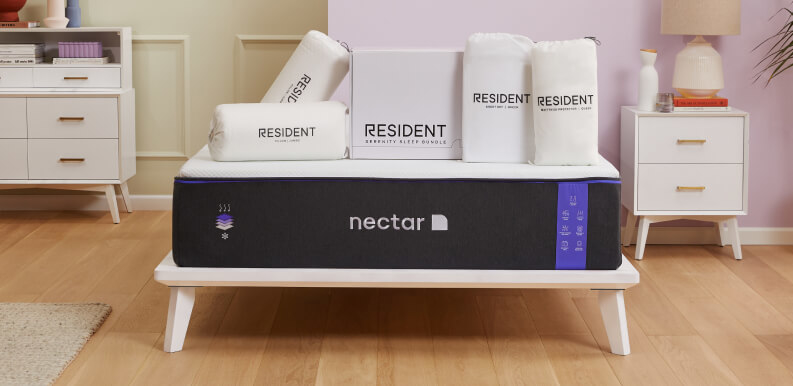 The Nectar Premier Mattress
Sleeping Positions
Basic knowledge of how the mattress is constructed might help decide whether it's the real deal for you. But what's even more important is information on how it performs in different sleeping positions. So, how does the Nectar Premier feel in your favorite sleeping style?
Let's talk about that!
Back Sleeping - as a bed that's just slightly shy of the standard medium-firm mark, we feel the Nectar Premier will make a great choice for back sleepers. Back sleepers require a mattress with a good mix of softness and support to ensure that they are getting plenty of pressure relief around the lower back while remaining comfortable. The 3-inch comfort layer of this mattress coupled with the slow-response transition zone makes it highly recommendable to most lightweight and average-weight back sleepers.
Side Sleeping - side sleepers need a mattress that molds to their natural curves to cradle their shoulders and hips and prevent pressure build-up. Thanks to its position on the firmness scale, the Nectar Premier makes a very good fit for lightweight, average-weight, and even heavy-weight side sleepers.
Stomach Sleeping - prone sleepers prefer a firmer mattress because they need to keep their hips elevated and aligned with the mattress. This is important for maintaining the natural S-curve of the spine. So, is the Nectar Premier a good mattress for stomach sleeping? Well, we expect it to work for lightweight stomach sleepers weighing 150 lbs and below. Above this weight, you may experience excessive sinkage around your waist, and this may eventually lead to back pains.
Firmness Review
On a 1-10 scale where 10 is the absolute firmest bed you can think of, the Nectar Premier sits at around 5.5. This makes it a relatively softer mattress compared to mattresses that rate above 6.5 on the firmness scale. We like to point out that mattress firmness is subjective, and it depends heavily on your weight and preference. If you're lighter, this mattress may feel slightly firmer than our perception (around 6). Likewise, it might feel slightly softer if you're heavier.
Value for the Money
The new Nectar Premier mattress by Nectar Sleep may be slightly on the pricier end of the spectrum compared to the original Nectar mattress. However, having gone through its layer-by-layer construction and overall sleep performance, we believe Nectar Sleep offers good value for money here. On this note, we recommend checking out Nectar Sleep's website as they're currently offering lots of free accessories with each mattress.
Overall
This is a bed we can wholeheartedly recommend to anyone looking for a quality memory foam mattress that's engineered with hot sleepers in mind. There are several things that we like about it, including its pressure relief and extra cooling technology.
This mattress also performs fairly well on edge support. Although there's some notable sinkage when you sit on it (happens with all-foam mattresses, by the way), most average weight individuals should feel stable sleeping along the edge.
Pros & Cons
Excellent cradling quality for back pain
Above-average edge support
Temperature-neutral for hot sleepers
May be too soft for overweight individuals