Cocoon Mattress
Advertising Disclosure: We receive referral fees from the brands listed below.
Full Disclosure
MattressVerdict.com is a mattress & sleeping products reviews website. Our website compares leading brands, provides detailed reviews about the product construction, warranty, return policy and more. We do not list all mattress brands out there, nor do we cover all aspects of brands we list. We do our best to keep the information accurate, but we can't promise you that it is. Companies often change their product as well as their prices, warranty periods and more.The best way to get accurate information is to go to their respective official websites. We receive referral fees from the brands on the website. We do our best to provide accurate information. Fees impact rankings, rating and reviews.
For more information on how we rate Click Here
Great Motion Isolation
Cooling Cover
100 Night Home Trial
Shop mattress
35% Off + 2 FREE Pillows & Sheets
Free Pillows & Sheets
Summary
The Cocoon Chill is a 10-inch tall, all-foam mattress.
As a bed-in-a-box style mattress, it's shipped free of charge in an easily movable box.
Its construction comprises 3 layers of foam, including memory foam and poly foam.
This mattress is designed with hot sleepers in mind. Its cover is infused with a cooling technology that dissipates heat.
The new Cocoon Chill now comes in only one firmness level that caters to all types of sleepers
side, stomach, and back.
The manufacturer covers your purchase with a 100-night trial period and a 10-year warranty.
Comparison of brands
Cocoon Mattress

Visit site
VS

Visit site
Our Review
By MattressVerdict Team
Mattress Construction
Cover - the new Cocoon Chill mattress starts with the same stretch-knit cover that its predecessors used. This cover features a blend of polyester and cotton, and it's very popular partly because of its temperature management abilities. Besides being breathable, this cover incorporates an innovative Phase Changing Material that draws heat away from you to create a cooler sleeping surface. If a cooling feature is a must-have on your mattress, we bet you're going to appreciate this cover. Lastly, this cover can be removed, but it can't go in the washing machine.

Comfort layer - this mattress's comfort section is composed of a 2-inch layer of Perfect Fit memory foam. It's critical to point out that this foam possesses most of the properties of classic memory foam. For instance, it will mold itself to your body shape and natural lines to provide for a comfortable sleeping experience. However, as a proprietary version of memory foam, you'll realize that it doesn't hinder easy movement as traditional visco-elastic foam does. The next two layers further facilitate this ease of movement.

Transition layer - sandwiched between the comfort layer and the base support is another 2-inch layer of a proprietary foam that Sealy calls Responsive comfort foam. This layer makes the new Chill foam mattress a suitable pick for people across different weight groups and sleeping styles. This foam is of a slightly higher density than the comfort layer, and it gives this mattress a superior cozy feel plus its initial support.

Base support - the comfort and transition layers rest on another 6-inch core support base made of high-density poly foam. This layer generates robust support that's necessary to prevent you from sinking deep into the mattress. It's engineered to be incredibly durable and resilient too.

When choosing between different foam mattresses, it's the construction that matters the most. Coming from a manufacturer with close to 14 decades of experience making mattresses, we feel that this mattress will continue commanding a broad appeal. The proprietary Perfect Fit memory foam at the top has an incredible cradling effect but does not make you feel like you're unable to move around. The Phase Changing Material infused in the cover is another welcome technology, especially for a mattress that uses memory foam.
Shop mattress
35% Off + 2 FREE Pillows & Sheets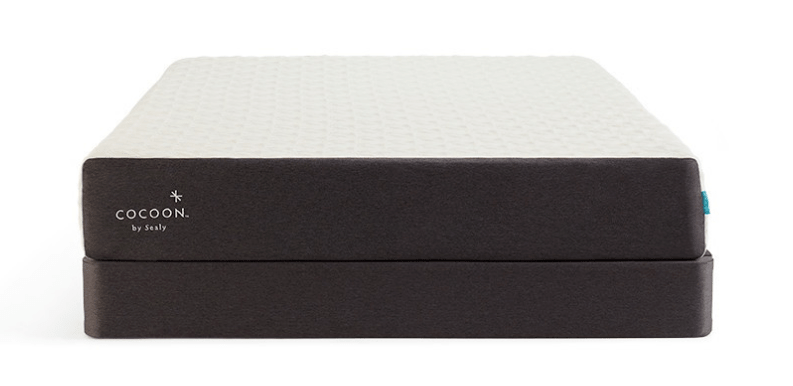 The Cocoon Chill Mattress
Sleeping Positions
Side sleeping - if you spend a good chunk of the night sleeping on your side, you should be looking for a mattress with ample support. The best mattress for side sleepers should let you sink just enough to cradle your natural curves, but not to the extent that you start waking up sore. As a medium-firm mattress with a memory foam comfort layer, we're convinced that the Cocoon Chill works for most side sleepers. Thanks to its moldable texture, the memory foam layer will provide the contouring support that your body curves and joints need.
Back sleeping - this position offers an advantage over other sleeping styles in terms of spinal alignment. When sleeping on your back, your body is naturally centered over your spine, so all you need is a mattress with the right support to promote this alignment. The Cocoon Chill can provide exceptional back support for most people who weigh below 250 lbs. It might feel comfortable for heavier folks in the short run, it might not have enough support to protect them from sinking deep into the layers.
Stomach sleeping - The ideal mattress for stomach sleeping should align the spine by preventing your midsection from sinking too deeply. As a mattress that's cleverly designed to appeal to a broader market, it's not surprising that the Cocoon Chill favors this position too. While the comfort layer contours to your body shape, the higher density transition and support core will stabilize the mattress and offer enough pushback to your midsection for excellent spinal alignment.
Firmness Review
As mentioned before, the new Cocoon Chill mattress feels like a blend of the outgoing versions; the extra-firm and plush. The new model is a medium-firm mattress that, in our opinion, corresponds to a firmness range of between 6 and 7 on the firmness scale.
On its official website, Sealy scores this mattress a 6 out of 10. But mattress firmness is relative; people who carry less weight (below 200 lbs) may find it slightly firmer than those who weigh 200 lbs and above. All in all, we feel this mattress will suit most people who want a comfortable mattress that provides enough support without being too firm.
Value for the Money
With over 135 years in the mattress industry, Sealy has emerged as one of the most reputable mattress brands out there. Its popularity is mainly rooted in its mattresses' quality, but this manufacturer is also known for its competitive pricing. The cost of the Cocoon Chill mattress is within the range of most all-foam mattresses. Most of the time, this price can be up to 35% lower when you factor in the discounts and other freebies, such as pillows and bedsheets that Sealy offers almost always.
Overall
The Sealy brand is known for its quality bedroom products, and this has been translated nicely into the new Cocoon Chill mattress. This is a mattress that pretty much anyone who loves the cradling feel of memory foam will love. While it's not the best memory foam for super-hot sleepers, the PCM material infused in its cover puts it ahead of other memory foam mattresses in terms of temperature management.
Pros & Cons
Cooling cover minimizes the issue of heat retention
Great motion isolation
Affordable price & financing
Below average edge support
Possibility of off-gassing after unpacking