Premier Copper
Advertising Disclosure: We receive referral fees from the brands listed below.
Full Disclosure
MattressVerdict.com is a mattress & sleeping products reviews website. Our website compares leading brands, provides detailed reviews about the product construction, warranty, return policy and more. We do not list all mattress brands out there, nor do we cover all aspects of brands we list. We do our best to keep the information accurate, but we can't promise you that it is. Companies often change their product as well as their prices, warranty periods and more.The best way to get accurate information is to go to their respective official websites. We receive referral fees from the brands on the website. We do our best to provide accurate information. Fees impact rankings, rating and reviews.
For more information on how we rate Click Here
Heat-conductive copper fibers
Tall Mattress!
Free Shipping & Returns
Shop mattress
Labor Day! $200 OFF + $499 Of FREE Gifts
Summary
The Nectar Premier Copper is a 14-inch, 3-layer, high-quality memory foam mattress.
It has triple-action cooling technology featuring a copper-infused cover and PCM-infused gel memory foam comfort layer.
The Nectar Premier Copper caters to memory foam lovers who sleep hot.
This is a medium-firm mattress with a rating of 6.5 on the standard mattress firmness scale.
As with other Nectar mattresses, you get the Premier Copper with a 365-day trial and 'Forever' warranty.
Comparison of brands
Premier Copper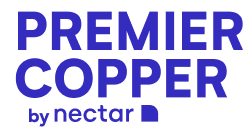 Visit site
VS

Visit site
Our Review
By MattressVerdict Team
Mattress Construction
The Nectar Premier Copper has 3 foam layers that give it a height of 14 inches. This height makes it the only 'luxury' mattress in Nectar Sleep's list of mattresses and a great pick if you prefer a taller bed. Let's see what's happening in each of its layers

Cover - the Nectar Premier Copper mattress gets its name from its cover. The cover is made from a soft blend of polyethylene and spandex. But what makes it unique is its copper fiber infusion. Considering copper's high thermal conductivity properties, this cover will absorb and wick away body heat that would otherwise accumulate around you. This heat dissipation is an incredible bonus for individuals who overheat at night.

Besides its heat-wicking properties, most people will appreciate how soft this cover feels. The fact that you can remove and wash it is yet another noteworthy feature.

Comfort layer - the Nectar Premier Copper has a 4-inch memory foam comfort system divided into 2 sections. At the top, the memory foam is infused with Phase Change Material (PCM). PCM is one of the latest mattress cooling applications. It has high heat fusion and will absorb some of your body heat, avoiding a rise in temperature on the sleeping surface. The bottom portion of this comfort layer is infused with gel. This is a classic technology that works like a PCM by absorbing body heat to draw it away from the sleeper.

Transition layer - below the comfort zone is a one-inch transition layer made of Dynamic Support foam. This layer's main task is to protect you from bottoming out the comfort system onto the firmer base layer underneath.

Base layer - In all-foam mattresses, the base layer forms the main source of support for the entire bed. The thickness and density of this layer also set the foundation for the mattress's durability. The main support section of the Nectar Premier Copper is a 9-inch layer of high-density polyfoam. This thickness and density makes it an incredibly supportive mattress for different body types. Its density also makes it an overall high-quality and durable bed.

From the cover to the base layer, we think Nectar Sleep has outdone itself with the choice of materials that it uses for this mattress's construction. Particularly, we appreciate the cool-to-the-touch sensation of the cover and the overall feel of the entire mattress. But most importantly, we're impressed by this manufacturer's intention to curb the issue of heat retention that plagues most memory foam mattresses. If your bed tends to get uncomfortably hot at night, the 3 cooling technologies blended into this mattress may be the solution to keeping you cool.
Shop mattress
Labor Day! $200 OFF + $499 Of FREE Gifts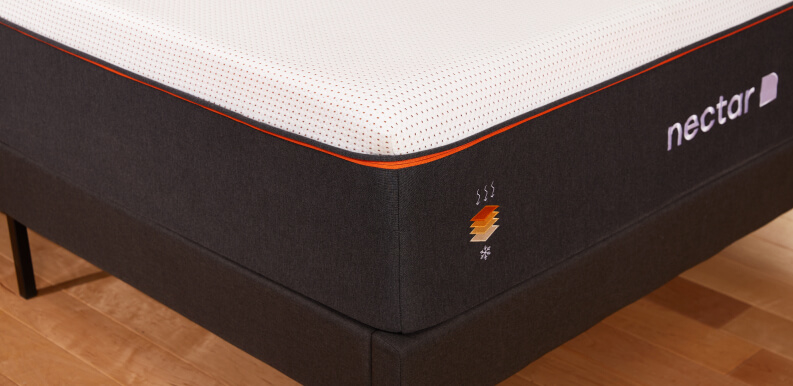 The Nectar Premier Copper Mattress
Sleeping Positions
When buying a bed-in-a-box mattress online, your first question needs to be whether it's the perfect match for your body shape and sleeping style. That's what we're going to find out in this section.
Side sleeping - as a medium-firm mattress, the Nectar Premier Copper joins our list of the best mattresses for side sleepers. The thickness of the comfort system allows it to contour to the areas prone to pressure buildup, particularly the hips and shoulders. Thanks to the thin transition layer, you'll also be benefitting from a good amount of support from the base layer to maintain the natural curve of the spine.
Back sleeping - as a back sleeper, you want a mattress that contours moderately. This is important for supporting the lumbar to prevent the spine from curving unnaturally. The Nectar Premier Copper is one such mattress, and it's going to work for most lightweight and average-weight individuals. Combination heavy sleepers who switch from side to back sleeping should also find it comfortable.
Stomach sleeping - the Nectar Premier Copper will be a solid option for stomach sleepers weighing under 230 lbs. Often stomach sleepers prefer a firm mattress that will keep the spine. The Nectar Premier Copper is notably plusher, and heavy stomach sleepers may sink through the comfort layers, causing the spine into a dangerous u-shape. On the other hand, lightweight individuals don't exert a lot of pressure on the first layers, so they are likely to get just enough support to remain comfortable.
Firmness Review
The Nectar Premier Copper has a medium-firm feel (6.5/10). By placing a one-inch transition layer between a 4-inch comfort zone and a 9-inch base layer, Nectar Sleep offers a mattress with a reasonably balanced feel. The memory foam layers at the top have enough contouring to promote pressure relief. Additionally, the firm base layer gives this mattress a good level of bounce and responsiveness to ensure optimum support.
Value for the Money
The Nectar Premier Copper is not another run-of-the-mill mattress. We like the extent that this manufacturer has gone to make it a comfortable pick for the buyer. By incorporating 3 cooling technologies, the Premier Copper becomes a worthy contender in most lists of the best memory foam mattresses for hot sleepers. Overall, you're getting a fantastic value for this mattress. While its price tag is slightly higher, you can get a good deal on the Nectar Premier Copper with free accessories of over $450 on Nectarsleep.com.
Overall
The Nectar Premier Copper is a great mattress overall. Thanks to its design, we expect it to appeal to memory foam lovers across different sleeping styles and body weight, and shapes. From the cover to the last layer, Nectar Sleep seems to have given a lot of thought to each component, especially on the issue of heat retention. Thus, we expect memory foam lovers and first-timers to have a great time sleeping on it.
Without forgetting, like other mattresses by this brand, the Nectar Premier Copper also qualifies for free delivery, a 365-day at-home trial, and Nectar's Forever warranty. In case you wish to return it within the trial window, Nectar also allows free returns.
Pros & Cons
Excellent quality overall
Heat retention has been minimized
Removable cover allows regular washing
Mattress may be too tall for some people