Level Mattress
Advertising Disclosure: We receive referral fees from the brands listed below. These fees affect scoring and rankings.
Full Disclosure
MattressVerdict.com is a mattress reviews website. Our website compares leading brands, provides detailed reviews about the mattresses construction, warranty, return policy and more. We do not list all mattress brands out there, nor do we cover all aspects of brands we list. We do our best to keep the information accurate, but we can't promise you that it is. Mattress companies often change their product as well as their prices, warranty periods and more.The best way to get accurate information is to go to their respective official websites. We receive referral fees from the brands on the website. We do our best to provide accurate information. Fees impact rankings, rating and reviews.
For more information on how we rate Click Here
TriSupport® Mattress with Premium Materials
Made in the USA
Clinically tested & proven to improve sleep
Shop mattress
Summary
The Level Sleep has an exceptional motion isolation capability, which makes it ideal for co-sleepers who need little to no disruptions while sleeping.
Made in the USA with non-toxic materials, the Level Sleep Mattress is a sturdy product that's expected to last for six to seven years.
The Level Sleep mattress provides decent edge support with some sinkage along the perimeter.
With its all-foam design, the Level Sleep Mattress is exceedingly silent and the right option for co-sleepers and couples.
Level Sleep provides a lifetime warranty on this mattress.
The Level Sleep mattress comes with a 365-night sleep trial with shipping and returns to provide you with a hassle-free sleep.
Comparison of brands
Level Mattress

Visit site
VS

Visit site
Our Review
By MattressVerdict Team
Mattress Construction
With an 11-inch thickness, the Level Sleep Mattress is a medium-profile model. Here's a breakdown of its layers:

Cover – At the top, we have a synthetic blend cover that is removable and washable. It also comes with 4-way "recoveree" stretch technology to provide a cool, comfortable sleep.
Comfort Layer – The Level Sleep features a top 1-inch comfort layer constructed using Enduroplush HR Foam. Besides aiding pressure relief, this layer also acts as a transition for the 3-inch support layer that follows it.
Support Layer – Made of Energex Adaptive Foam, this layer is the Level Sleep's main selling point with its patented TriSupport design. It's divided into the following three zones:
o Head & Shoulder Zone: The first zone is made of soft, cushioning foam that provides pressure relief to your shoulders, helping them sink into the mattress.
o Torso Zone: The second zone is a much firmer foam that's designed to support the lower back and torso.
o Hips & Leg Zone: The third zone in the layer features medium-support foam to provide better contouring of your hips and to improve the spinal alignment.
Base Layer – The 7-inch base is made of High Resilience Extra Firm Foam to deliver proper support to the upper layers and offer greater durability.
Shop mattress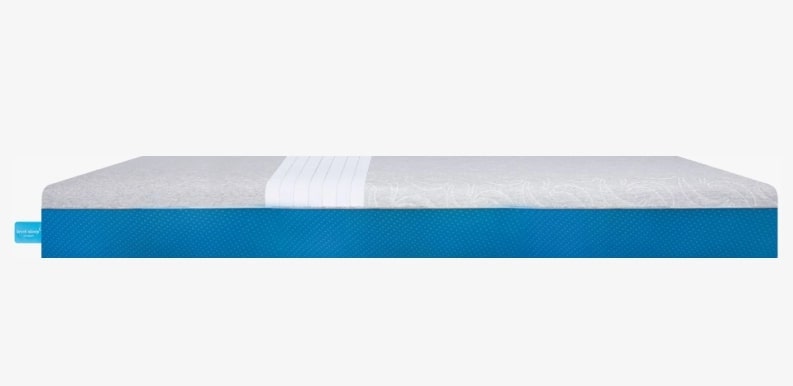 The Level Mattress
Sleeping Positions
Stomach Sleepers – Stomach sleepers usually look for a bed that doesn't let their hips sink too deep into it. That's what they get from the Level Sleep mattress. It's supportive yet comfortable enough to provide a great night's sleep when you are on your stomach.;
Back Sleepers – Designed with the aim to alleviate back pain, the Level Sleep is a great option for back sleepers. Its zoned TriSupport construction supports the lumbar region with just the right firmness back sleepers often need.;
Side Sleepers – Side sleepers will find this mattress soft enough to cradle their shoulders and hips and firm enough to support their lumbar area, making it an excellent option to sleep on your side.;
Firmness Review
All in all, the Level Sleep is a medium-firm mattress even though you can experience different firmness levels with the soft, firm and medium zones that it features.
Value for the Money
If you are on the higher side of the weighing scale, you may look for an option other than the Level Sleep mattress for greater support. That said, this patented mattress is clinically proven to alleviate pain and improve sleep quality, which makes it well worth a try and high value for money.
Overall
The Level Sleep mattress is a good fit for those who struggle to sleep. With its TriSupport Layer and excellent pressure point contouring, it's the perfect pick to increase sleep satisfaction, reduce fatigue and improve daytime performance.
Pros & Cons
Gives maximum support to the lumbar area
Sleeps cool
Might be helpful to people with back pain
Doesn't provide that classic memory foam feel
Not for heavy weight sleepers