Ghostbed Mattress
Advertising Disclosure: We receive referral fees from the brands listed below. These fees affect scoring and rankings.
Full Disclosure
MattressVerdict.com is a mattress reviews website. Our website compares leading brands, provides detailed reviews about the mattresses construction, warranty, return policy and more. We do not list all mattress brands out there, nor do we cover all aspects of brands we list. We do our best to keep the information accurate, but we can't promise you that it is. Mattress companies often change their product as well as their prices, warranty periods and more.The best way to get accurate information is to go to their respective official websites. We receive referral fees from the brands on the website. We do our best to provide accurate information. Fees impact rankings, rating and reviews.
For more information on how we rate Click Here
5 Generations of Quality & Innovation
Patented Cooling & Pain Relief
Fastest 2-5 Day Delivery w/ 0% APR
Shop mattress
30% OFF + 2 FREE Pillows & Silk Pillowcases
Summary
The Ghostbed mattress has a 3-layer construction design comprising aerated latex, gel memory foam, and a high-density poly foam support base.
This mattress has a height profile of 11 inches and a medium-firm feel of around 6.5 on the firmness scale.
All the components of this mattress are made and assembled here in the USA, so there's the promise of excellent quality plus faster shipping.
The Ghostbed is a bed-in-a-box style mattress and features a 101-night sleep trial period and a 20-year warranty.
As far as value for your money is concerned, this mattress is pretty average in pricing. Actually, it's among the most affordable options among mattresses with latex.
Comparison of brands
Ghostbed Mattress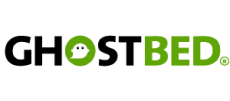 Visit site
VS

Visit site
Our Review
By MattressVerdict Team
Mattress Construction
The Ghostbed is an 11-inch all-foam mattress that employs 3 different types of foam technologies. You'll realize that the manufacturer markets it as a 4-layer mattress, but that's inclusive of the cover. All in all, by combining latex, gel-infused memory foam, and poly foam, the Ghostbed mattress achieves an exemplary balance in the major components of a great sleep: pressure relief, comfort, and support.

Here's how these 3 different technologies complement each other:

Cover - The Ghostbed mattress uses a cover made from a blend of viscose and polyester. Its design is generally simple, but it has a nice, cozy feel that doesn't impede the intended feel of the actual foam layers. Like most mattress covers, you can't remove this cover for machine-washing. But you can spot-clean the stain by blotting it with a clean cloth and white vinegar and water solution.

Comfort Layer - The comfort section of this mattress is a 1.5-inch layer of aerated latex. This is one of its most interesting components, considering that this material is mainly used in premium beds. Latex is becoming increasingly popular for its ability to contour to the human body. However, latex bounces back from body impressions at a faster rate than memory foam. This responsiveness boosts mobility by making it easy for the sleeper to move around and switch positions without expending a lot of energy. Additionally, latex has a natural open-cell structure and a purposely-created pinhole pattern. These two features provide excellent air circulation, which allows for good breathability leading to a comfortable sleeping temperature.

Transition Layer - The synthetic latex layer transitions to 2-inch memory foam with gel infusion. Ghostbed highlights that this is a proprietary foam constructed with larger cells. These are open cells that effectively create a matrix that allows air to penetrate through further reducing heat retention on the sleeping surface. The gel-infusion technology in this foam is yet another temperature regulation technology aimed at overcoming hot sleeping. This gel works like a phase-changing material and will transition between liquid and solid states as the temperature changes. As body heat builds up on the sleeping surface, this gel absorbs it, keeping the top of the mattress cool.

Base - Finally, we get to the base, which is a 7.5-inch slab of dense polyurethane foam. If you've perused most of our foam mattress reviews, you'll realize that most mattress brands use a thick foam of this material. Poly foam makes an excellent choice for the foundational layer for mattresses. It's sturdy, relatively cheap, and easy to roll-pack. The Ghostbed mattress uses fairly common construction materials, and there's nothing out of the ordinary. But we think placing the aerated latex layer on top of the memory foam block was a smart approach, which works to eliminate the stuck-in-mud feeling that visco-elastic foam causes. This design, coupled with the large open-cell structure and gel-infusion in the memory foam layer, will also help maintain a cooler sleeping surface.
Shop mattress
30% OFF + 2 FREE Pillows & Silk Pillowcases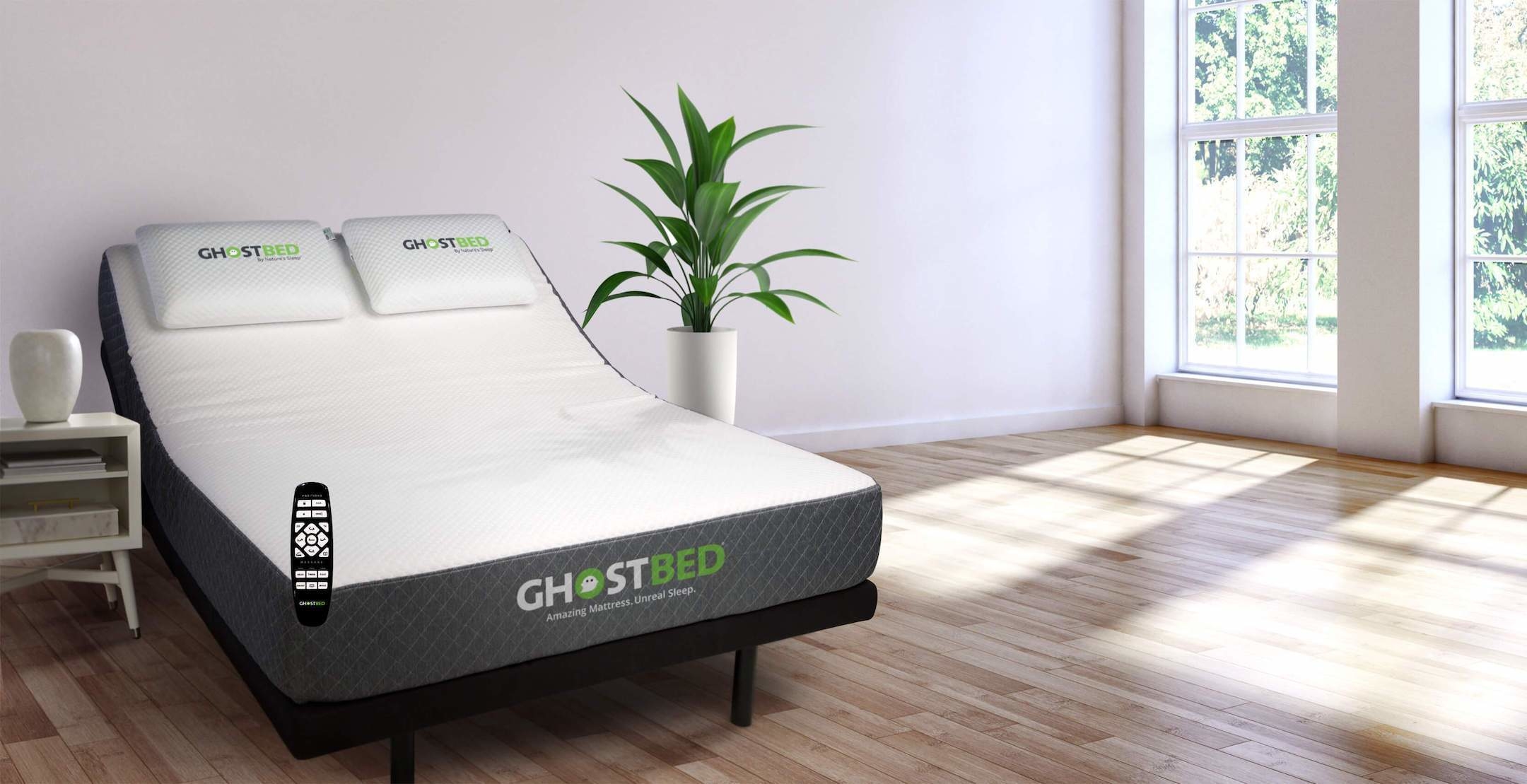 The Ghostbed Mattress
Sleeping Positions
Back sleepers - the Ghostbed makes one of our top choices for people who sleep mainly on their back. The memory foam transition layer provides incredible contouring to the lumbar region, while the latex layer on top prevents uncomfortable sinkage.
Stomach sleeping - most lightweight and average-weight folks will find this mattress okay for stomach sleeping. Its medium-firm feel suits this position by providing adequate support around the sleepers' midsections. The latex and gel memory foam layers create the cushioning that stomach sleepers look for. Those who weigh over 230 lbs may find this mattress too soft for their liking since it will struggle to keep their spines aligned. But this may not be an issue for combination sleepers.
Side sleeping - as you rotate to your side, your hips and shoulders will start to sink slowly, allowing the latex and memory foam layers to take the pressure off these areas. However, overweight strict side sleepers may sink more than ideal, causing misalignment of the spine.
Firmness Review
The actual feel of a mattress tends to vary between sleepers depending on their weight. Heavier people will find a bed relatively softer, while lightweight individuals will find the same mattress somewhat firm. For the Ghostbed, most folks will find it medium to medium-firm (5 to 6.5 on the firmness scale). This firmness range makes it a great choice for almost all sleeping positions, including combination sleeping.
Value for the Money
Ghostbed is a reasonably priced mattress. It falls at around the same price range as several other reputable all-foam mattresses that we've reviewed on our site. As a way of remaining aloft in the competitive marketplace, this manufacturer offers coupons and great discounts almost all the time. For instance, when doing this review, you get this mattress at a 25% discount and 2 luxury pillows to boot.
Overall
The Ghostbed is an impressive mattress at a great price point. By combining 3 foam technologies (aerated latex, gel memory foam, and high-density poly foam), this mattress can meet the sleeping needs of a wide range of people. It boasts a nicely balanced foam feel and offers a good amount of support, comfort, and pressure relief. The latex layer at the top plus the high-density poly foam base make it responsive and accommodative to movements. This means that it's a good option for couples and people who change positions a lot when asleep.
Pros & Cons
Latex-infused mattress at a great price
Air circulation promises a cool night
Above-average edge support
Not ideal for overweight stomach sleepers